In the early days of the pandemic, healthcare organizations quickly recognized the need for change when it came to their core function: delivering care for patients. In our previous articles in this series, we have focused on foundational pieces to this shift in care delivery, including what the pandemic has shown the industry about the need for long-term adoption of virtual care and how organizations can operationally make the transition to a digitally forward care model. Now, it is time to help your organization sustain transformation and remain ready for continued evolution.
Accelerate Change with an Intentional Approach
We know that a permanent integration of virtual care will be a significant adjustment for everyone involved — physicians, care teams, staff, patients, and their families. We believe change management is most successful when focused on the people-side of transformation — guiding people on a journey from where they are today to where they can be in the future. Central to the success of any change management effort is a strategic, human approach to communication that connects the dots between the "what" (changes) and builds confidence in the "why."
This is no small feat. It's a long-term journey that requires an in-depth, thoughtful, and tailored approach rooted in early alignment and listening, an emotional case for change, and tailored and sustained engagement. However, the benefits of such discipline cannot be overstated. Research shows that initiatives with an excellent change management strategy are six times more likely to achieve project goals and objectives.1
The approach modeled here can help your organization navigate the shift to digitally forward care models, remain ready for future change, and ultimately bolster the trust you need from your people to remain successful. Time and again, we have seen the following elements of change management incorporated into significant organizational challenges with successful, sustainable outcomes.
Align, Listen & Learn
Before any change management effort can begin, leadership must be aligned on the goals and details of the changes ahead and put in place a structure to maintain a strong pulse on the needs and wants of the teams impacted by change.
ALIGN
Early alignment among your leadership team and change sponsors (those formal or informal leaders who will be involved in developing and leading change) is crucial. During these conversations, you will be able to identify and refine any timelines and dependencies, ensuring that they are reflected in overall change planning. This is also when you'll envision what success looks like and the measures against which you'll gauge progress over time. When the leadership team is clearly aligned around a vision, team members are more likely to have trust and confidence in that vision. They also are more likely to agree that this significant effort around digitally forward care is a long-term, committed effort.
LISTEN and LEARN
Intentional listening should start early in planning and include your providers and care teams. Doing so is tremendously beneficial. When internal stakeholders are part of shaping organizational changes, you gain better understanding of the "why" for the change, an end product that better meets stakeholders' needs, and ambassadors who are able to share the story and merits of the case with their colleagues.
Such listening should include both your biggest advocates to learn the reasons behind their technology adoption and your strongest resistors to learn why they want to avoid making the transition. Fortunately, the workplan components for developing a digitally forward care model are based in provider and patient analysis, giving you the opportunity to bring operations and communications together for a more coordinated planning and implementation experience.
From research, we know that two top determinants of a successful change management initiative are employee engagement and communication.2 The most meaningful listening is person-to-person, either one-on-one or in small group conversations in which users can safely share their own experiences and feel (and be) heard. We understand that this requires a significant investment of time and resources. Capitalize on any existing data that shows where your people are today, including physician and employee engagement surveys and patient feedback insights. Make the most of this investment by mining what you have to help further inform and refine your listening plans.
A caveat: Merely listening for the sake of saying, "We listened to you," doesn't cut it. You must absorb what you've heard, share it, and put it into action.
Strategies and Tactics
These strategies and tactics can take your listening efforts to the next level and help build a strong foundation for change communications.
Providers and Staff
Facilitate iterative development sessions with leaders, providers, and staff to shape changes early on.
Join standing provider and staff meetings to hear directly from them about enablers and barriers to digital adoption.
Schedule one-on-one conversations with key champions and resistors to understand their perspectives.
Review your most recent provider and staff engagement data. Where possible, include questions in upcoming surveys regarding virtual care adoption and measure progress over time.
Patients
Tap patient advisory committees across your organization to understand the patient perspective on virtual care and digital health.
Review your most recent patient feedback data. Where possible, include questions in upcoming surveys regarding adoption and measure progress over time.
Conduct consumer focus groups and/or develop surveys specifically on the topic of virtual care adoption.
---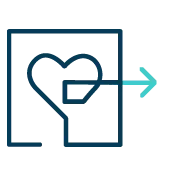 Make the Emotional Case for Change
In our previous article, we discussed the importance of making the business case for change. Taking this a step further, be sure to root that case in the overall "why" of your organization. To facilitate this, consider these questions within four areas of action:
Make it Human
How does the transition to becoming a digitally forward organization advance the vision of your organization and connect to your mission as caregivers?
Though the business case for change is critical, making change stick is also personal.
Identify the Impact
"What does it mean for me?"
Be able to answer that for each group you're asking to change. You achieve this by authentically listening, so you can understand the elements most important in transitioning to digitally forward care models.
Connect the Dots
How are changes connected?
Change isn't happening in a vacuum. Your team will likely navigate many other changes during this transition.
Define the Win
What does success look like?
Be realistic about the goal you're setting. Be intentional about sharing it with your people so that they know what you're all driving toward.
Strategies and Tactics
Focusing on messaging and the messenger is critical for sharing and maintaining a strong, emotional case for change.
Consistent messaging
Ensure everyone engaging with users about your transition can make the case for change. Offer communications training as needed.
Compelling messenger
Employees want to hear personal messages, such as "What does this mean for me?" from their most immediate supervisor. To resonate, align your audiences with the right messenger, timing, and channel.3
---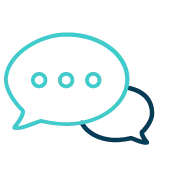 Meet People Where They Are
By adopting a digitally forward care model, you are asking patients, providers, and staff to think differently about receiving and delivering care. That requires meeting these different groups where they are in this journey and tailoring resources to them.
Phase of Change
What It Looks Like
How You Get There
AWARENESS
Providers and Staff
"I know the organization is adopting digitally forward care models and why."

"I'm helping shape what our digitally forward organization looks like."

Direct leader support, listening, and visibility
Leader and staff change-development sessions
Review of available data
Clear articulation of what is changing and why (business and emotional)
Training and workshops on available platforms
Building understanding of virtual vs. in-person engagement for different use cases

 
Patients
"I know my doctor/care team is making care available to me in ways that fit my needs and preferences."

Review of available data to understand consumer preferences
Patient engagement with care team
Patient education and communications

UNDERSTANDING
Providers and Staff
"I know why making these changes is important for my practice and patients."

"I know how to deliver care virtually to my patients and how to remain connected to them across the care continuum."

Training and workshops on:
- Using care platforms
- "Webside manner" communications
Direct leader support, listening, and visibility

 
Patients
"I know why it's beneficial to receive care services both virtually and in person, and to understand when each makes the most sense."

"I know how to access digital care and wellness services from my doctor and care team."

Easily accessible, clear, and simple support materials — including how-to videos, printed materials, online instruction guides, and human support
Clear articulation from provider/care team

OWNERSHIP
Providers and Staff
"My practice has improved as a result of our transition to becoming a digitally forward organization."

Share progress; celebrate milestones and call out and address identified areas of improvement
Continue to offer tailored resources that sustain ownership
Direct leader support, listening, and visibility

 
Patients
"I take a more active role in my health because of my access to virtual care and digital resources."

Continue to offer tailored resources that sustain ownership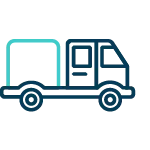 Sustain Engagement
Continue Listening, Learning, and Sharing
Change starts with and is sustained through listening. This is especially true when considering the rapid evolution of digital healthcare technologies. To remain current and to support your practitioners and patients in the adoption of future solutions, you must keep a pulse on what's working for them and what isn't. Then, put their feedback to use.
Consider continuing change-design sessions with providers and staff to refine solutions over time. Or field a quarterly pulse poll to gather sentiments and feedback from a broader population.
Measure Progress and Celebrate Milestones
Ongoing engagement provides you the ideal platform to measure progress against your stated goals and to celebrate milestones. This means remaining responsibly transparent about: what's working well and what you've achieved together, what barriers still exist and what you're doing to address them, plus areas requiring a pivot. For example, if a service line achieves a virtual care goal, recognize the team in a standing communication.
Or after a six-month period, dedicate a monthly webinar to recognizing progress made and how feedback has been used. Actively share patient feedback about their experiences and how these are being incorporated into further developing virtual care programs and approaches.
It's through continued engagement that you can bolster trust within your organization and build the goodwill needed to navigate changes to come. Without it, you risk undermining your efforts. Change without ongoing commitment, engagement, and leadership only adds unnecessary and self-inflicted fuel to the fatigue caused by external forces — like the pandemic. Healthcare organizations that successfully navigate change will be those that make the intentional effort to listen, connect to the human element, explain the "why," acknowledge the challenges, and celebrate the wins.
---
Sources
1 Prosci, "Why Change Management," www.prosci.com/resources/articles/why-change-management
2 Prosci, Best Practices in Change Management, 2018 Edition.
3 Prosci, Best Practices in Change Management, 2018 Edition.
© 2023 The Chartis Group, LLC. All rights reserved. This content draws on the research and experience of Chartis consultants and other sources. It is for general information purposes only and should not be used as a substitute for consultation with professional advisors.