While the dramatic spike in virtual care in the early days of the pandemic delivered many lessons, the main take-aways should be that virtual care is here to stay, and healthcare organizations need to take an intentional approach to integrate virtual care for the long run. Planning a digitally forward care delivery model requires thoughtful, purposeful alignment of the way health services are delivered and experienced—that is, the work that needs to be done, which roles do what work, when and where that work is done, and which tools are required to do it.
Reconfiguring the care delivery model to be digitally forward requires integrating clinicians' roles with digital tools to create deliberate impact—optimizing clinical effectiveness, patient-centricity, provider experience, and net income. Healthcare leaders will need to conduct an evaluation of the care delivery model to identify opportunities and quantify impacts that create the case for change.
Fortunately, the virtual care learnings and the case for change that organizations successfully navigated early in the pandemic should enable organizations to more quickly determine the requirements, scale, and workflows necessary to intentionally operationalize a digitally forward care delivery model. A strategic focus on benefit realization, combined with an intentional and programmatic approach to execution, will truly transform the enterprise care delivery platform.
Operating Model Principles to Map out Your Workplan
Healthcare organizations need a thoughtful, repeatable methodology they can apply across clinical services to guide each service line through creating a digitally forward care model—from defining, developing, and operationalizing the model to engaging clinical leadership and making the case for change. Grounding the methodology in a set of operating model principles creates insight and ensures that a holistic care model emerges, one in which virtual and in-person care complement one another.
Patient segmentation and navigation are vital to ensure the right care.
Digital capabilities are leveraged to the fullest.
Advanced practice providers (APPs) and nurses (RNs) drive lower-cost, digitally enabled care.
Care options are expanded and extended beyond traditional hours and locations.
Care teams are configured to support access and provider experience.
These operating model principles articulate the requirements that must be met by the digitally forward care models. The clinical service-specific work steps test each of the principles as the digitally forward care models are designed and implemented.
---
For the purposes of this article, we define virtual care broadly as synchronous or asynchronous interactions between patients and providers delivered through various channels, or modalities.
Telehealth is a subset of virtual care, encompassing discrete, real-time (synchronous) modalities, such as video and telephonic visits.
Digital health, on the other hand, is the overarching spectrum of experience and capabilities required for the material transformation of healthcare delivery beyond specific care interactions.
In the context of these definitions, we are seeing increased adoption of virtual care among providers and patients, prompting a dramatic shift in the conversation about the future of care delivery. In national surveys, consumers have voiced their expectation that virtual care should be part of their portfolio of care options.1 A 2021 report by Jarrard Inc., a Chartis Group company, found that 74% of consumers who have used telehealth want to continue to do so after the pandemic is under control. Providers have also signaled their intent to continue offering care virtually.2
---
5 Workplan Components for Developing a Digitally Forward Care Model
Based on these operating model principles, healthcare organizations should consider these five workplan components when developing their methodologies:
INTENTIONALLY MATCH patient encounter types to a provider and modality.
The goal is to direct patients to be seen in the right place by the right provider through the right modality at the right frequency. The organization should continuously assess patient preferences when creating encounter types so that encounters align with market demand and meet clinical and operational requirements.
Patient encounters can be segmented into categories based on criteria that create differentiation in aggregate: new or existing patient, same-day or future visit, reason for visit (wellness, acute symptoms, or chronic condition management), and patient preference. The segmentation and matching process is also an opportunity to review services that may not be offered today but will improve access, increase patient satisfaction, and grow market share if offered in the future—such as virtual urgent care.
Organizations should match the segmented encounter types with a provider and modality pairing and vet these matches with clinical and administrative leadership. The intention is to make the provider/modality pairing the default care model for those encounters, with first choice given to a digital modality unless clinical or operational challenges are present. Patients should be thoughtfully directed to these care matches during scheduling, both when patients reach into the system and when the organization conducts proactive outreach. Additional segmentation categories should be added over time as care models become more sophisticated.
CREATE USE CASES to illustrate and discuss how care should be triaged to providers and the care team.
Following the segmentation and matching process, create use cases that describe opportunities to optimize cost-effective capacity, expand access, attract consumers, and realize new revenue opportunities through digitally forward care delivery. Starting with a few recognizable use cases allows the organization to build muscle around the methodology, learn how to exercise it, and showcase value. Example use cases include:
Pre-procedure assessments and post-procedure follow-up visits are provided by APPs via video visit, providing convenience for patients and expanded capacity for the specialist for patient encounters and procedures.
Chronic condition management, like long-term diabetes management, becomes continuous care interactions with registered nurses, other APPs, and physicians over the course of the condition. The continuous care model replaces chronic condition clinic-based check-in encounters. The interactions occur in person, via email, over text, or telephonically when questions arise, or through remote patient monitoring, particularly for newly diagnosed diabetics. These capabilities create physician capacity and care team revenue.
Physicians conduct in-person or video encounters to diagnose and treat acute symptoms and direct e-consults with specialists for referral and care planning purposes, optimizing their time for complex diagnoses and clinical decision-making.
Critically, the digitally forward care delivery model should pivot from provider-driven supply and availability to a proactive response to consumer demand, preference, and convenience. The use cases created should be tested and discussed for that shift in perspective. Design work sessions led by physicians to engage other providers, care teams, administrators, and technologists in constructive ideation, justification, planning, and execution will facilitate the collective mind and resource shift that is required.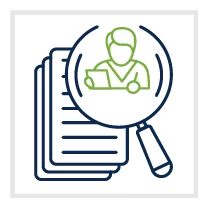 EVALUATE THE CARE TEAM complement.
An understanding of current provider capacity and its utilization is required to evaluate the impact of a digitally forward care delivery model on future care team complements. Compare the current state care team complement (roles and patient ratios) to the future state, optimal capacity, and team complement required for the matched patient encounter and provider-modality use cases. The organization must strive to gain more value from physician/APP teams by creating impact through the application of technology. Care models that leverage APPs in digitally forward clinical operations create a catalyst for transformative provider enterprise performance.
Identify where adjustments to encounter types (provider-modality) may be required in the near term to midterm, and outline activities to close the gap between current and future states (e.g., workforce planning, training, and recruiting).
CREATE THE CASE for CHANGE.
Reconfiguring the care delivery model requires a compelling strategy; engaged and motivated providers, care teams, and patients; and informed insights. Purpose-built use case design sessions are a good way to facilitate exposure and healthy discussion that lead to buy-in and opportunities to understand resistance. The goal of these sessions is to create context and requirements for the digitally forward care model. For example, does the digitally forward care model create timely, convenient, and affordable access from the consumer's perspective? A focus group comprised of patients can provide constructive feedback.
Another important element is business justification that models operational and financial impact. An analytic model template that all clinical services can use should focus on key inputs, such as visit segmentation, provider capacity, care team ratios, panel size, utilization assumptions, and reimbursement assumptions. Running the model through an iterative process will refine the outputs and the model itself. Results can be used to justify the transformation. Key will be credible quantification of provider and care team capacity and utilization; panel growth; and estimates for revenues, expenses, and net income.
ADDRESS ORGANIZATIONAL & SERVICE- specific supporting capabilities.
A common digital infrastructure, standardized technology, workflows, and role definition are necessary organizational capabilities to provide the foundation. An initial assessment and shared understanding of existing digital modalities, their current deployment across the health system, and existing gaps is essential to the evolution of digitally forward care models. In addition, the digitally forward approach may require supporting capabilities to be successful within the clinical service. These capabilities include:
Analytic insights to align demand for patient encounter requirements to provider-modality use cases
A triage function to direct patients to an appropriate encounter care model
Resource management to match demand created by redistributing encounters
A dynamic staffing model to provide the right time, place, channel, and modality
Marketing, patient engagement and education, and tools to capture and honor patient preferences
Practice change management facilitation
Getting Started
The approaches to a digitally forward care model between clinical disciplines will be substantial—as they should be. We recommend starting the work on digitally forward care model transformation with a service area that has eager and amenable clinical leadership to refine the approach and templates, and to understand support requirements and capabilities before rolling out across additional services.
Behavioral health/psychiatry has emerged as the clear leader in digitally forward capability adoption across clinical services. Cardiology, neurology, and gastroenterology have demonstrated sustained telehealth adoption in recent months, maintaining visit rates higher than 24 percent across those specialties according to Chartis' Telehealth Adoption Tracker. Specialties that lag in adoption rates, like dermatology, have potential once the organization has mastered care model development and can optimize encounter, care team, and business model requirements, as well as a compelling patient and provider experience to support the digitally forward approach.
In the third and final article of the series, we will tackle the critical—and often overlooked—change management and communications strategies for ensuring physician and staff buy-in, engagement, and championship of the new models.
© 2023 The Chartis Group, LLC. All rights reserved. This content draws on the research and experience of Chartis consultants and other sources. It is for general information purposes only and should not be used as a substitute for consultation with professional advisors.