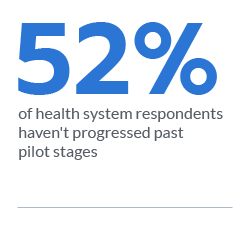 The COVID-19 pandemic seemed to thrust the healthcare industry into a digital revolution. But the reality is that while effectively all health systems rapidly pivoted to embrace virtual care in the early days of the pandemic, most continue to lag on meaningful digital transformation — moving from the freestanding digital solutions launched initially to truly transformed, digitally forward care delivery.
The depth of the need and the scale of the opportunity are evidenced in the results of a study I shared this week at HIMSS21 as part of the inaugural Future of Healthcare event.1 As part of the HIMSS Trust partnership, The Chartis Group surveyed more than 200 healthcare leaders from every region of the U.S., most of them working in urban and suburban areas and either stand-alone community hospitals or regional health systems with $500 million to $5 billion in revenue.
The study found that over half of respondents (52 percent), still operate with free-standing digital solutions and haven't progressed beyond the pilot stages of digitally forward care delivery. And while 80 percent say they plan to increase their investment in digital, they also say the impediments are not related to technology investments but rather to internal factors, such as reimbursement, physician buy-in, and operating processes. Following are the top-level points from the study.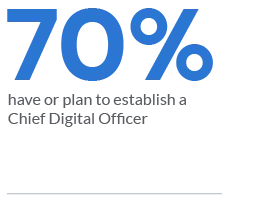 Transformation Must Encompass More Than Technology
The study shows health systems have a growing desire to invest in meaningful digital transformation. Nearly half of respondents (47 percent) cite digital as a top organizational priority, 84 percent have patient portals, 70 percent have or plan to establish a chief digital officer, and 58 percent plan to invest $10 million or more in digital health.
But without greater investments in internal factors — like business, operating, and clinical model transformation — they risk digitizing obsolete processes and business models. Health systems that do this are simply creating a more costly and cumbersome system rather than an efficient, agile, transformed one.
Said another way, adding new technology to an old organization will simply result in a more costly old organization.
There's Little Margin for Error
Nearly nine in ten respondents (88 percent) believe commercial payments need to grow to support long-term financial health, but they also expect a continued push toward value-based care and predict that value-based-care arrangements will increase from 32 percent of revenue today to nearly 40 percent in five years.
At the same time, digital investment needs are rising for nearly every health system. Many don't forecast any reductions in more traditional investment areas, such as infrastructure or staff, meaning additional investments are needed across virtually every dimension of the healthcare enterprise.
To prioritize digital transformation, health systems must align their investments with larger enterprise goals that can be advanced by digital solutions.
Align Digital with Strategic Goals
In the short term, health systems need to focus on how they integrate their digital solutions into their healthcare delivery ecosystem to advance near-term goals, like patient access, engagement, and cost management.
Over the long-term, however, they need to begin to reconceive the entire delivery ecosystem, enabling care model delivery redesign, consumer-centric service models, and new care setting development. Hospital@Home is a prime example.
Digital health can help meet goals across an organization. Health systems are already using it to become leaders in value-based-care delivery, grow and tighten alignment with employed and aligned primary care, expand reach into new geographies and positioning for non-IP growth, become consumer-centered healthcare delivery enterprises, grow into leading tertiary/destination care centers for their regions, and reduce the total cost of care and improve affordability for their communities.
Think Bigger About AI/ML
Artificial intelligence and machine learning (AI/ML) use cases are often operationally focused, but organizations adopting it will surely see an increase in clinical use cases. Still, the study shows healthcare leaders are uncertain of AI/ML's exact potential.
Some 7 percent see it as a top priority, but an equal number think it's a distraction. Everyone else — nearly equally split — sees it as either one of their organization's top-three priorities, one of its general priorities, or just an enabling tactic over the next five years.
The bottom line is healthcare leaders aren't yet sure what to think about it. Operational business design is the easiest place to put it, and that's what seems to be driving the first wave of adoption.
Investing Is Just the Beginning
Digital transformation isn't a line item in an organization's budget; it's a full-blown culture change. And that means giving leaders time and space to think about their business units — how they do their work, why they do it the way they do, and what they would do instead if they had the opportunity to change. Because that's what digital health has the potential to do: revolutionize operations and clinical care delivery.
It will take a lot to succeed: Dedicated leadership, engaged and informed executive governance, sufficient dedicated enterprise transformation resources, forward-looking planning roadmaps, and results-oriented KPIs and ROI metrics are all essential.
But these days, it's not a question of if health systems will undergo digital transformation. It's not even a question of when. Digital transformation is already happening. And if your health system isn't currently engaged in digital transformation, you're already behind.
---
Sources
1 Healthcare Information and Management Systems Society, Inc. (HIMSS) is a global advisor and thought leader supporting the transformation of the health ecosystem through information and technology.
The HIMSS Trust partnership is a consortium of leaders from across the healthcare and technology space who are collecting, analyzing and reporting on in-depth, data-driven market intelligence. Insights gathered by the Trust will unveil trends and challenges to help the industry prepare and predict for the next three to five years.
© 2023 The Chartis Group, LLC. All rights reserved. This content draws on the research and experience of Chartis consultants and other sources. It is for general information purposes only and should not be used as a substitute for consultation with professional advisors.