As health systems recover, rebuild, and reimagine a stronger, sustainable healthcare system, the need for transformation has grown at a pace few could have imagined. Enterprise resource planning (ERP) systems and the healthcare operations they enable have been on the verge of transformation for the last decade. But it is only in the last year that the pandemic has broken down 10 years' worth of barriers to upgrading, optimizing, and replacing these systems.
The pandemic revealed a significant weakness in the healthcare system: The patchwork of disparate supply chain, human capital management (HCM), and finance systems and processes are preventing health systems from having the information they need for real-time data-driven decision-making. At the same time, these aging, highly customized on-premises ERP products are also preventing health systems from realizing the agility and cost reductions required in today's environment.
To thrive in this new era of constant change, health systems need advancements that the new generation of cloud-based ERP systems can provide—including supply chain digitization, real-time inventory management, mobile workforce management, employee self-service, and real-time reporting with drill-down analytics from a single integrated platform. The time is right for health systems to evaluate their ERP strategies and consider next-generation ERP systems for operational and strategic gain.
"The time is right for health systems to evaluate their ERP strategies and consider next-generation ERP systems for operational and strategic gain."
ERP Strategies in the Age of COVID-19 and Beyond
For the past decade, health systems have been focused on implementing and optimizing their electronic health record (EHR) systems. While focusing on clinical imperatives was critical, ERP took a back seat in many organizations. Health systems that did move forward with ERP had challenges with out-of-date technology, immature cloud ERP systems, and slow adoption.
During that time, ERP vendors were significantly investing and innovating to develop next-generation, cloud-based ERP platforms—with a full spectrum of healthcare operations functionality. These platforms are smarter, faster, and leaner, and can now keep pace with business change. Newer technologies are advancing ERPs from back-office solutions to the forefront of digital business.
As shown below, these new cloud-based ERP platforms can provide a more efficient and integrated platform, offering strategic business tools that generate a return on investment (ROI). New functionality—such as employee self-service, talent science, mobile workforce management, and real-time analytics—are providing a better experience, supporting more efficient business processes, and transforming the operating model. They are also enabling enterprise integration with health systems' EHRs to achieve the ultimate goal: a centralized information platform and single source of truth across the organization.
New Functionality Delivers Measurable Results
---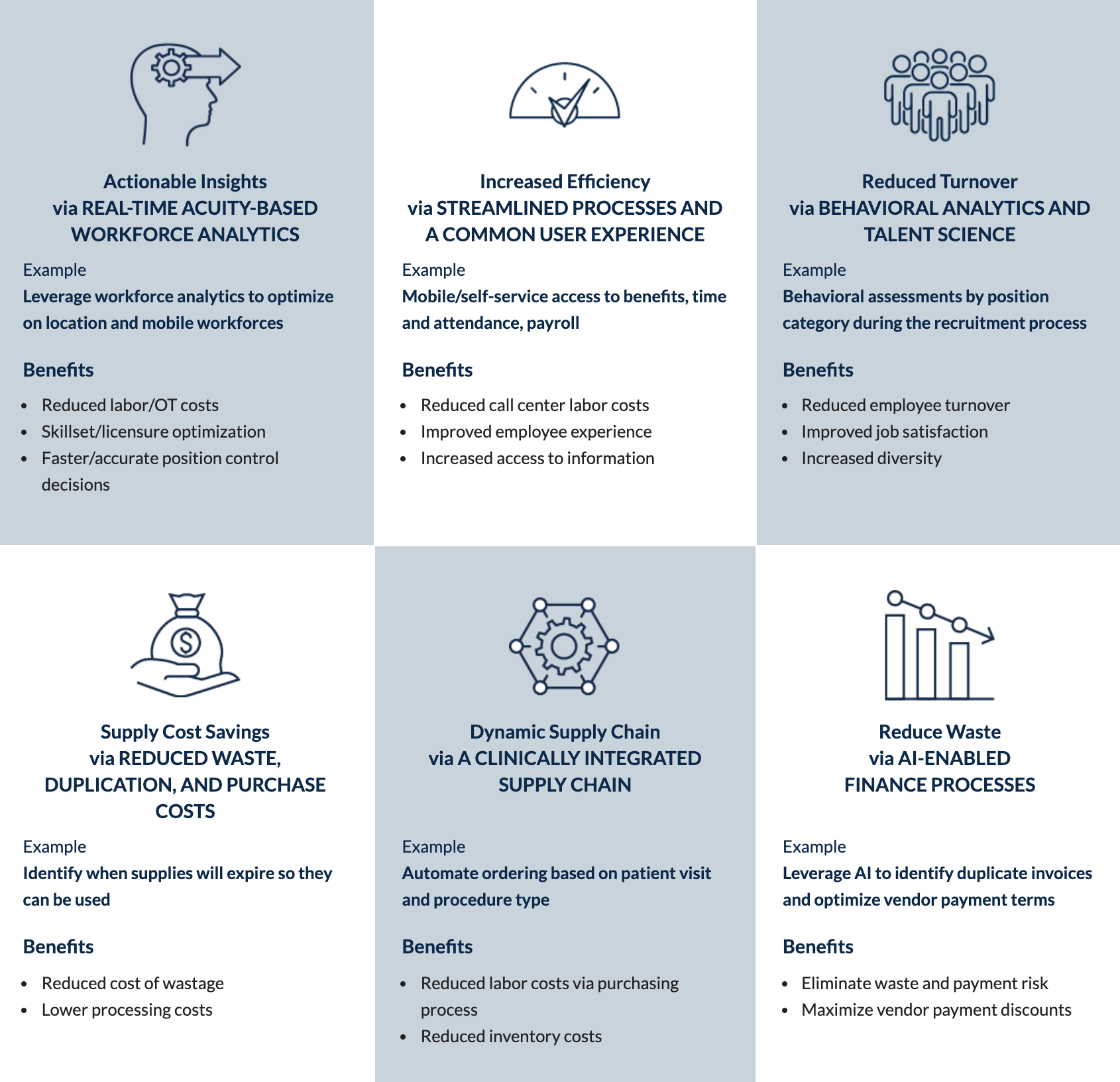 Navigating Pitfalls to Drive Strategic Outcomes
Market shifts and new functionalities have created the need for executives to decide not if but when their organizations will migrate to fully integrated cloud-based ERP systems. The opportunity is there. 60% of hospitals have yet to adopt an integrated ERP system and even fewer have migrated to the cloud.[1] This hesitancy often stems from having heard stories about early cloud ERP adopters whose projects have unfortunately missed the mark.
TOP PITFALLS INCLUDE:
---
Massive undertakings with unrealistic goals
---
Recent ERP strategies frequently included broad, lengthy, complex, and costly transformation programs that were supported by dozens of on-site consultants. This model is becoming obsolete. With scope-creep and unrealistic goals, projects turned into never-ending cycles with dramatic cost overruns and delays in achieving benefits. Without being clear on the key components that would move the needle the most, projects frequently expanded their focus to try to achieve too many things.
How to Avoid It
It's critical to effectively strategize and plan for ERP up front. Especially in the wake of the pandemic, clearly delineating the cost, value, and reasonable pace of change to advance the health system's strategic objectives is essential. It is equally important to ensure strong project management and conduct periodic in-flight reviews to monitor project health and provide opportunities to course-correct as needed.
---
Absence of a compelling business case and measurable ROI
---
Many organizations struggled when the significant costs and expectations for the program were not outlined in a business case along with expected benefits. Identifying and achieving benefits is a key component that separates successful implementations from unsuccessful ones.
How to Avoid It
Developing a well-defined business case with key performance indicators (KPIs) before implementation sets realistic goals and ensures that executives and key stakeholders are aligned on expectations. ROI is a major driver for ERP implementation, and benefits like labor productivity savings, financial management efficiencies, and supply chain productivity and cost reductions should be delineated up front, along with accountability for their achievement.
---
Underdeveloped business process strategy
---
The opportunity to replace highly customized processes with proven, best practice processes is a major change to how ERP has historically been implemented. Healthcare organizations that didn't take the time up front to develop a clear future-state business process strategy and plan often found themselves with limited or missing functionality after go-live, along with user pushback to adopting the new system.
How to Avoid It
Workflow analysis and redesign are required to take maximum advantage of new functionalities. Given the number of processes across finance, supply chain, and HR, healthcare organizations need to identify and prioritize key processes and benefits up front. Organizations should ensure operational alignment with those decisions and then target redesign to high-value business processes that will move the needle—like real-time inventory management, workflow-driven onboarding and offboarding processes, and a streamlined financial close process.
---
Lack of disciplined change management to drive actual and sustainable change
---
ERP implementations require the entire organization to work together to bring about transformational change—a journey that goes beyond technology and impacts people, processes, and systems. Without disciplined change management, it's easy to revert to old processes and workarounds, undermining the transformative value of the new technology. Organizations that didn't focus on change management experienced internal resistance and ultimately a lack of adoption and project success.
How to Avoid It
A disciplined change management program should be centered on operational readiness and include a strong communication plan. It is imperative to ensure alignment across the organization and to articulate the case for change. Organizations should involve and inform key stakeholder groups early and often to build trust and cultivate transparency at all levels.
The Time to Transition
The pandemic placed a spotlight on the patchwork of disparate business operation systems and processes that prevent health systems from having the information they need for real-time, data-driven decision-making. Given the significant advancements in next-generation cloud-based ERP systems, the opportunity for operational and strategic gain is tremendous. The question for health systems should be when, not if, they will make the transition. When done right, new ERP functionality can drive substantial value across the organization.
© 2023 The Chartis Group, LLC. All rights reserved. This content draws on the research and experience of Chartis consultants and other sources. It is for general information purposes only and should not be used as a substitute for consultation with professional advisors.