Is Cancer Home Infusion Therapy Poised for Growth?
The wake of the pandemic has brought forth an appetite for innovation and change across healthcare delivery. Cancer care experienced a spike in virtual and remote care and a mobilization to keep immunocompromised patients safe from infection risk. These dynamics create the perfect opportunity for care delivery model disruption and innovation—leading many to challenge the traditional requirements for where chemotherapy can be delivered safely.
The allures of in-home infusion are self-evident, particularly for exhausted cancer patients for whom the added stressors of driving to the hospital practice, battling to find parking, and wayfinding are significant. Offering infusion therapy at home could prove to be a patient satisfier and retention strategy, even as payers increasingly eye policy changes to support shifts in delivery settings. However, it also presents significant financial risk and patient safety concerns that must be carefully weighed.
Despite many apparent benefits to patient convenience and experience, in-home chemotherapy infusion has not gained traction in the U.S. beyond sporadic pilot projects, even as the model has successfully deployed in places like the U.K., Australia, and Denmark. In this article, we explore the barriers preventing broad adoption of home chemotherapy, why these barriers may be decreasing, and how providers should consider positioning service model innovation.
Providers need to understand the barriers related to the questions: Is in-home infusion possible for us to implement? Could we offer this care safely? What regulations would we need to consider? And how would we operationalize delivery?
Barriers to In-Home Infusion Adoption
---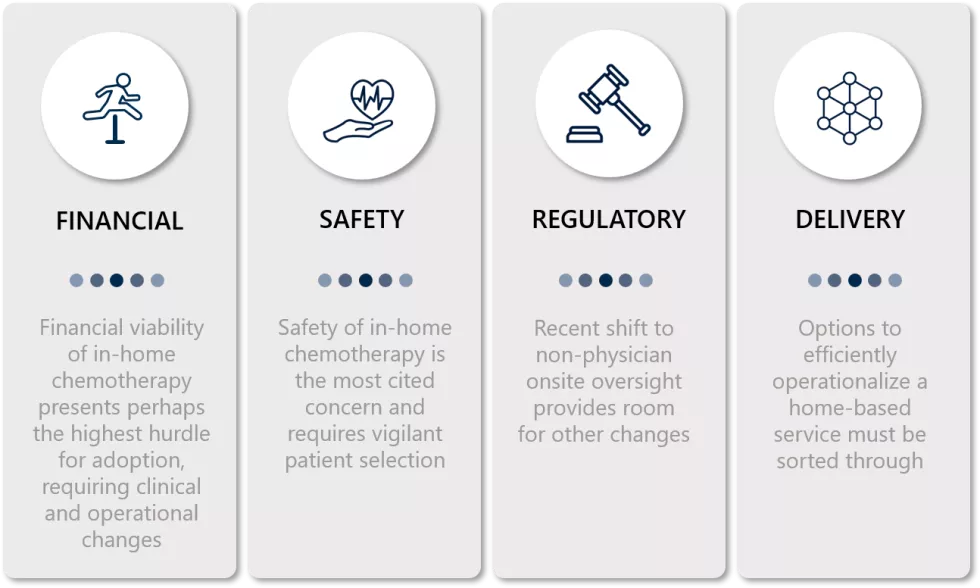 ---
Financial Considerations
---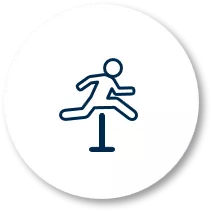 Tension is created by two components: operating expenses and reimbursement.
Operating Expenses
The provision of chemotherapy comprises 3 primary expense categories—clinical staff, supplies and equipment, and drugs. The first category provides a counterforce with an in-home model. Studies show the removal of overhead more than overcomes the added expense of 1:1 patient-to-nurse staffing, reducing delivery cost by 50% in some clinic settings.1 The transitioning of select patients to a home care setting also provides the added benefit of freeing capacity in infusion centers, many of which run at, near, or (in many cases) over capacity.
The more significant cost consideration is pharmaceuticals. More than 45% of Medicare acute care hospitals are eligible to purchase chemotherapy drugs at a significant discount by virtue of the 340B Drug Pricing Program. These drug discounts, often exceeding 30% of the traditional cost, are available only for those drugs provided in a hospital outpatient department—registered, approved, and monitored by the Health Resources and Services Administration (HRSA).
At present, there is no vehicle to extend 340B drug discounts into alternative care settings, including "hospital at home" models. And with the average full-time oncologist delivering $3–4 million in drugs on an annual basis, most eligible health systems won't readily abandon the approximately 30% savings associated with 340B settings.
Reimbursement
Medicare has removed reimbursement differentials for home infusions and will reimburse for a number of in-home chemo administrations and infused drugs, such as Doxorubicin, Blinatumomab, and Cytarabine, among others. 2, 3 However, commercial payer reimbursements will drive behavior, with reimbursement tied to delivery in a hospital or certified outpatient setting and paying more than 200% of Medicare. This hurdle is significant, and providers will need compelling counter-incentives to forfeit this margin.
At the same time, commercial payers, just as Medicare, are increasingly active with establishing payment models and rates that support care setting changes. Armed with increasing beneficial evidence and patient demand for in-home chemotherapy infusion, they will continue to force disruption.
---
Delivery and Oversight Considerations
---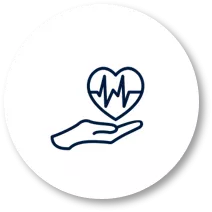 Safety
The safety of in-home chemotherapy is the most cited concern and is a key reason the Community Oncology Alliance issued a formal statement in April 2020 that it "fundamentally opposes home chemotherapy, cancer immunotherapy, and cancer treatment supportive drugs." 4
While safety is paramount, there are advanced health systems outside the U.S. with equal concern for patient safety that take a different stance on in-home chemo infusions. Their solution is predicated on vigilant patient selection. Patients eligible for in-home chemotherapy are generally defined as those receiving treatments proven to have low risk of anaphylaxis, have already tolerated the treatment in a clinical setting, and can take some responsibility for their own care. This aligns with the perspective of the National Comprehensive Cancer Network, which cautiously suggests that some chemotherapies may be appropriate for in-home infusions. 5
Regulation
Medicare no longer requires on-site physician oversight while chemotherapy is administered. Coupled with increased telehealth utilization and swift action to make virtual care reimbursable through the pandemic, it isn't a stretch to believe supervision could be provided remotely if evidence is sufficiently compelling that patient safety concerns will be appropriately managed.
In addition, the Centers for Medicare & Medicaid Services (CMS) launched a permanent home infusion therapy benefit starting January 2020, aligned with the agency's efforts to encourage care to be delivered in the home as much as possible. CMS now pays for nursing and professional services for Category 3 neoplasm parenteral drugs or biologicals administered intravenously or subcutaneously. CMS Administrator Seema Verma touted the new benefit as giving patients more choices: "The new permanent home infusion therapy benefit increases the availability of home-based care, by giving patients the choice and convenience to receive critical treatments, such as anti-infectives and chemotherapy, safely at home instead of a hospital or doctor's office." 6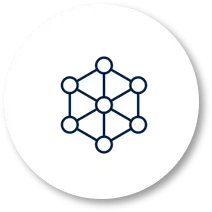 Service Delivery Model
If safety and regulatory barriers can be overcome, the next obvious barrier is how to efficiently operationalize a home-based chemotherapy service. Patients will expect the service to equal the reliability and consistency provided in physician practice and hospital settings. Providers will expect to have expert clinical staff and an operating model efficient enough to create a sustainable margin on the service. The U.K. and Australia have solved for these requirements by using private, specialized in-home care companies to deliver chemo infusions.
It remains to be seen whether the U.S. can replicate the operating model from other countries. The workforce of oncology certified nurses (OCNs) is in short supply. 7, 2 There also is a dual dependency on providers establishing strong strategic partnerships with in-home infusion companies and on these companies in turn earning the trust of cautious physicians. The actualization of an in-home chemotherapy infusion model would also not be uniform across the country. The experience of providers in the U.K. suggests that the model deploys most effectively in urban settings proximate to hospital campuses. In each geography, the model will need to account for unique patient populations, barriers to care, and a workflow that encompasses the lab work, toxicity assessment, and physician check-ins that surround the regimen of chemotherapy infusion.
---
Enabling Factors
---
A number of factors are converging to enable this service model innovation:
An increased need for in-home care to limit immunosuppressed patients' risk of contracting contagious illnesses like COVID-19 and give patients the confidence to continue with their treatment path by avoiding healthcare settings.
Closer attention from payers and Congress to the benefits of infusion therapy and making regulatory and reimbursement changes that enable expanded use of home infusion.
A shortage of oncologists, which is driving team-based care models and partnerships for treating patients and survivors, freeing up more timely slots for newly diagnosed cases in overburdened clinics.
Patient reports of in-home care allowing better management of their symptoms and better adherence to chemotherapy schedules, in addition to better quality of life related to spiritual and physical well-being. [7]
Technological advancements with digital health, implantable and digestible monitoring devices, and novel in-home therapy administration devices.
Rapid growth of newer biologics used in combination with standard chemotherapy, which work synergistically to deliver more effective antitumor immunity.
Call to Action: Carefully Study and Experiment
While in-home chemotherapy has not broadly proliferated, we believe it is prudent for cancer providers to be prepared, and to thoroughly research and consider the various issues related to this innovative delivery model. Analogs in other countries should be studied, as well as limited domestic pilots. Cancer providers must understand financial impacts from a shift of infusion volume to a home-based setting. Be proactive in modeling what that impact means, including such factors as overhead reductions, staffing requirements, clinic space decompression opportunities, and payor rates. Once modeled, explore where the impacts should and can be mitigated.
Are local commercial payers willing to pilot in-home chemo infusion with limited reimbursement dilution?
Could reimbursement differentials be overcome through volume of new patients interested in a more convenient service?
These questions need to be resolved ahead of a broader market shift to in-home infusion, including the critical input and guidance from oncologists on how to stratify patient eligibility and preserve safety.
Innovative oncology programs will find win-win solutions that balance financial viability; patient convenience; and utilization of their infusion center, cancer center assets, and human capital.
© 2023 The Chartis Group, LLC. All rights reserved. This content draws on the research and experience of Chartis consultants and other sources. It is for general information purposes only and should not be used as a substitute for consultation with professional advisors.